Comments by Tedd

March 14, 2020
It is with a very heart that we report the passing of former News Anchor on TV and Bay Area airborne traffic reporter Arch Deal. I spoke to his wife Ruby and his son Doug, he died exactly the way his daughter Karen died several years, by suffocating on a piece of meat.
Arch started out at least 50 years ago at WTVT anchoring the 6 oclock new, he left to join WFLA TV doing the same and finished his TV career at WSPT Ch 10 in Tampa. After a briaialliant TV career Arch joined Q105 as their eye in the sky reporter with Nancy Alexander.
Arch has penned a few books including on on his famous free fall where his parachute refused to open on a 3000 jump. He survived that failed jump to successfully jump 50 times on his 50th birthday.
He will be sorely missed by several karaoke stops he and his wife Ruby would make weekly.
An avid dancer, would be found on the dance halls as well as some acting in plays
*
I got some bad news recently, Drs have given me a little over 2 years to live. My kidneys are failing and I refuse to get a transplant. At 71 I would rather they get a kidney for some one younger. Lord knows I see enough youngers at dialysis every week.
*
Congratulations to Channel 13 for doing their series on DJs from the Tampa Bay area that have been around for some time. Its about time some local Jox got some well deserved publicity.
Until we meet again, LIVE IT UP!
Live It Up!
---
AM Tampa Bay Newsradio 970 WFLA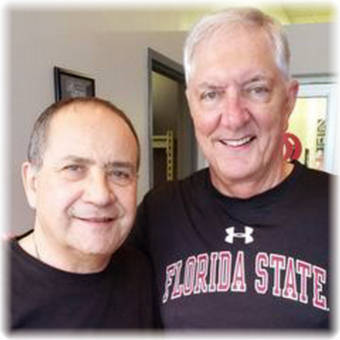 Tedd Webb (Now Retired) & Jack Harris
---
---

Hear Tedd Webb's WFLA Storm Promo
---

Tedd Webb's Jamaican Red Beans/Rice/Chicken Recipe
---

Tedd Webb's Freakin' Awesome Potatoes Salad