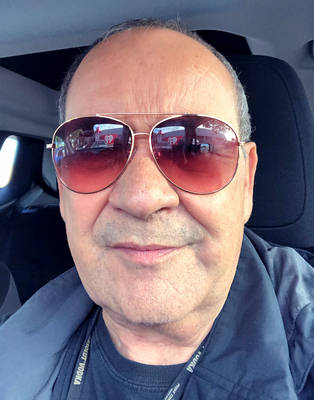 Tedd Webb
Born and raised in Tampa Bay, Tedd Webb mans the morning watch with Jack Harris and Sharon Taylor on Newsradio 970 WFLA, Tampa Bay.
A former DJ, Tedd had stops at WALT, WFSO, WLCY, WDAE, WNSI, WPLP, and the legendary "Q Morning Zoo" of the early 1980's, with Scott Shannon & Cleveland Wheeler. For 8 years Webb hosted "Sports Rap" Sunday nights on WFTS Channel 28.
Tedd has received numerous awards during his career, including the prestigious "Communicator Of The Year" from Toastmasters International, and Hispanic Heritage Man Of The Year in Media for 2001. Tedd was inducted into the Jefferson High School Hall of Fame in 2002.
Webb is an avid photographer, who once owned East 7th Avenue Studios in Ybor City. He has released two books, a black and white coffee table art book titled "Butt of Course", a black & white tribute to Woman, and the trivia book, based on his Rack Your Brain segment every morning on AM Tampa Bay, titled Tedd Webb's Trivia.
Tedd has been a DJ, a Sportscaster and a talk show host in his time in radio.
Tedd's favorite pastime is singing karaoke in his living room karaoke bar.
Basketball legend Dick Vitale from ESPN says "Tedd Webb, I'm your biggest fan!" Detroit Tigers Hall of Famer, play-by-play man Ernie Harwell call's Tedd "one of the bright stars of radio." Ernie wrote the foreword to Tedd' Webb's Trivia Book.
No better recognized media personality in Tampa Bay.
Tedd Webb Is One Of A Kind . . .
TEDD WEBB'S DJ YEARS . . .
---
| | | | |
| --- | --- | --- | --- |
| WALT | [Tampa FL] 1963 | WDAE | [Tampa FL] 1973 |
| WYOU | [Tampa FL] 1965 | WFSO | [St Petersburg FL] 1974 |
| WPKM | [Tampa FL] 1966 | WLCY | [St Petersburg FL] 1975 |
| WPAS | [Zephyrhills FL] 1966 | WFSO | [St Petersburg FL] 1977 |
| WSOO | [Sault Sainte Marie MI] 1967 | WPLP | [St Petersburg FL] 1978 |
| WIDG | [St Ignace, MI] 1969 | WWBA | [St Petersburg FL] 1980 |
| WCWR | [Clearwater FL] 1969 | WNSI | [St Petersburg FL] 1980 |
| WKKE | [Asheville NC] 1969 | WRBQ | [Tampa FL] 1981-1983* |
| WCWR | [Clearwater FL] 1970 | * | Q105 (The Q Morning Zoo) |
| WFSO | [St Petersburg FL] 1970 | WFLA | [Tampa FL] 1983 - Present |
| WLCY | [St Petersburg FL] 1973 | | |
---
Tedd Webb ~ 1973

Tedd has (3) children:
€ Mandi (married to Jeff)
€ Lee
€ Nick

(4) Grandchildren:

€ Mikayla, Amelia, Michael.
and Blake

---

UPDATE 3/30/2021

With a mix of emotions, we have to announce that Tedd Webb whose real name was Henry Ruiz, passed away March 30, 2021in Tampa after a long illness. This website is dedicated to him and the hard work he did to be sure all the people in the Bay Area, and particularly those in Tampa who have contributed to its growth and prosperity, that were noted and honored with a short biography.

Teddy will be missed by multitudes of frends and fans.

---