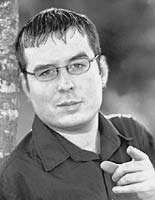 Shannon Rose
Shannon Rose started his career in pro wrestling at the age of 12 with a public access cable show that ran for 7 years in Tampa along with working for Championship Wrestling from Florida. Gordon Solie and Dusty Rhodes gave Shannon his start as a ring announcer. 16 years later Shannon remains "The Voice of Florida Wrestling" and has worked for NWA, ECW, and many other wrestling promotions. He also has managed, wrestled, refereed, and has run a wrestling hotline for the St. Petersburg, Times.
He started out his radio career as an intern for 970 WFLA / 93.3 WFLZ. Shannon went onto opening up a number of successful wrestling websites from prowrestlingdaily.com to sgtslaughter.com and many others. He also has worked for MORETV32 and am 620.
He currently is the executive producer for Mark Larsen "Morning Magazine" on NewsTalk AM 1040 / Talk Radio AM 1190 plus he is the stations promotions director.
Shannon Rose currently works for NWA Florida as a ring announcer.