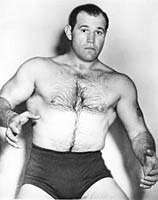 Ray Villmer
He hailed from St. Louis, and what a great competitor Ray Vilmer was. Scientific wrestler with smooth moves for a big man.
Roy teamed up with Eddie Graham for some classic showdowns with the Von Brauners in the early 1960s, selling out the Armory in Tampa. Ray also teamed up with Pat O'Connor on his many visits to Tampa Bay.
Ray held many titles in his day, including the NWA World Tag Team title with Graham.
Ray's son Mike was a tremendous baseball player, a pitcher who could hum the ole potato.
Ray retired from wrestling and settled down in the Tampa Bay area where he and his wife Virginia still live.