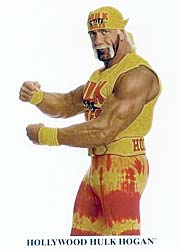 "Hollywood" Hulk Hogan
Real Name: Terry Bollea
Stats: 6' 8" • 275 lbs.
Born: August 11, 1953
His name is Terry Bollea, but the world knows him as "Hulk Hogan" and more than anyone else, he was responsible for the meteoric rise in the popularity of professional wrestling in the 1980's. While not the most skillful wrestler of his era, nor even the biggest, Hogan combined his enormous physical stature with an outstanding screen presence to cause the World Wrestling Federation to rocket past all other Wrestling Organizations as the top provider of wrestling entertainment on a nationwide basis.
This Robinson High School graduate was brought into the sport of Professional Wrestling when he was discovered while playing the bass guitar in nightclub in the early 1970's by Jack and Jerry Brisco. In order to learn his new trade, Hogan trained under the tutelage of Japans great Hiro Matsuda, after which he moved from his home in Tampa to the west coast, where he began bodybuilding in Venice Beach, California, working under the name of "Sterling Golden." Later, he changed his Ring name to Terry Boulder, before settling on the name of Hulk Hogan. He was later managed by "Classy" Freddie Blassie and wrestled as a heel in a number of organizations, including the AWA and the WWF. While he gained in popularity in several regions, Hogan had not yet gained national exposure - this would happen in 1982.
In 1982, Hogan appeared in the motion picture Rocky III, starring as the enormous wrestling villain "Thunderlips." Because of the huge positive response his appearance received, Vince McMahon lured him back to the WWF and made him the focal point of that federation's ability to survive and then thrive. He defeated the Iron Sheik in 1984 to secure the WWF Heavyweight Championship and quickly became the WWF's most popular athlete. Behind Hogan's 26" arms and huge shoulders, McMahon pushed the WWF towards a national audience. Commencing with several tie ins with MTV, Hogan, the WWF and the sport of Pro Wrestling hit the big time when the Hulk appeared with actor Mr. T at the WWF's first big wrestling extravaganza, Wrestlemania I. Hulk also starred in the TV action series "Thunder in Paradise", as well as several other movies.
We still look at him and see the tall, skinny bass player who worked at many Tampa night clubs as a rock & roller in the 70s. As a youngster in Port Tampa, He and Vic Petitt won several youth bowling championships.
After several years in the WCW, Hulk is back in the WWE with Vince McMahon, headlining wrestling cards across the country. Truly one of Tampa's most famous characters!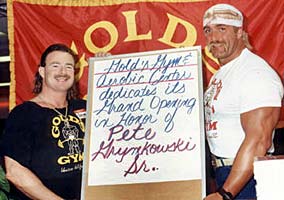 B. Brien Blair & Hulk Hogan