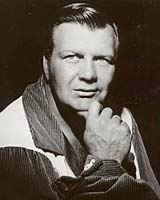 George Scott
George will always be remembered as the man who created 'Wrestlemania' for Vince McMahon. His brain earned Vince and the WWF billions of dollars.
The Canadian born sensation started out in the business in the 1950s wrestling all over the world including Tampa. He often teamed with his brother Sandy Scott. George was a headliner until a broken back curtailed his in ring action.
Scott moved into the promotional end of the business, and earned a reputation as one of the best bookers in the history of the sport.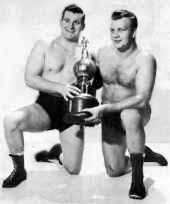 Sandy & George Scott
Jack Brisco, former NWA Heavyweight Champion has fond memories of George. "Everybody thought that George was a great booker," Brisco said. "What made George different as a booker and an excellent booker was that he would always approach each individual involved in the match and get their side of it, their opinion of everything. Most bookers, when you got there, they had the finish laid out and what they want to do and what direction they we wanted to go, between them and the promoter. But George took the approach of getting the input from each wrestler involved in it."
George and his wife Jean live in Indian Rocks Beach, Florida. He owns real estate and rental properties and gets a lot of golfing in. His wife was a former City Commissioner and is active in politics.
George Scott has carved out a name for himself in wrestling history. Truly a genius story plotter, and one who will go down in the books as 'The Best'.