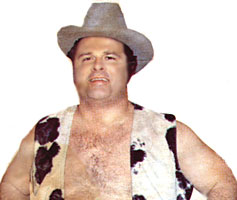 Cowboy Bill Watts
Cowboy Bill & Suzanne Watts
PO Box 399 Bixby, Ok. 74008 USA
Home: 918-366-3899
Cell: 918-640-8821
Email: BillWatts@iglide.net
www.CowboyBillWatts.com
www.WeWantU2Win.com
Two special quotes: "The mind is like a parachute, it only works when it's open!"
by unknown,
"It is one of the most beautiful compensations of this life that no man can
sincerely try to help another without helping himself.
-Ralph Waldo Emerson
As time goes by, we realize how tremendously loyal "wrestling fans are----beyond our most highly placed expectations. Plus, we realize we were a part of something that really impacted people's lives, and many still remember our Mid-South Sports Wrestling, and consider it one of the better promotions historically in pro-wrestling. What a wonderful feeling to have been involved in something so memorable.
Well, "after wrestling, I wanted to be in a business that could help people, and also provide a reliable stream of residual income. So, I got involved in the Home Based Business Industry, and that is really a "cactus patch for all intents and purposes, and I went through 7 "pie in the sky deals,-----you know, those get rich companies, those MLM deals. And all of them "over-promised and under-delivered. In fact, I'm to the point where I believe MLM means Must Lose Money!
Finally, I met a person who really "educated me about this industry, and after about an 8 month process, introduced me to a company in June of 2001, with an 18 year track record of consistent growth, and positive business vision, run with integrity and principle, with exceptional products at reasonable prices. These are products each one of us are using everyday anyway. (And, it is not Amway, or some MLM or NWM deal.) It is a "real business. But, we do not run around selling products to our friends, don't keep any inventory, don't have any employees, and don't collect any money. Our business is a wholesale catalog shopping business, that we started for $29, and we help people open their accounts, and get paid a referral fee for their purchases, plus the purchases of those they refer too.
In fact, we earned $4,743.53 our first month, and $89,740.82 our first year working 14 to 20 hours per week------part time effort for full time income. And the future is brighter than the present. Our company's sales increased by over $49 Million last year, a recession year in the US. So, we are "in essence recession proof.
So, if you know anyone who could benefit by developing a reliable, significant secondary income part-time, or serious people, who would like to investigate owning their own business, we urge you to have them visit our web pages above, and then, if interested, contact us.
We have found a business where we "can enhance the lives of those we touch by helping them achieve their goals. And it is 100% Risk Free! So, if I am 64 years old, and can do this working part-time out of my own home, then I can guarantee you, I can show you how to do this too.
Sincerely,
Cowboy Bill Watts