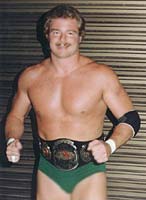 Florida Heavyweight Champion ~ 1982
B. Brian Blair
B. Brian Blair is one of the most athletic and technically sound wrestlers in the ring and one of the most well liked and respected stars out of the ring.Brian is a natural athlete, but believes that talent can only take you so far. Brian is dedicated to mental and physical training and lettered in four sports at Tampa Bay Tech High School in Florida. Brian lived on his own from the time he was 15. To earn money as a youth, Brian sold sodas at University of Tampa football games where he enjoyed watching another superior athlete, Paul Orndorff play running back for the Spartans. Both would go on to successful wrestling careers, including the WWF.
An excellent athlete, with God given ability, Brian had the opportunity to enter his chosen sport early. Before his junior year in college, he accepted an offer from Tampa icon, Eddie Graham, to join Tampa-based Championship Wrestling from Florida. He started with Eddie Graham's Florida Championship Wrestling office and was was trained by several stars, including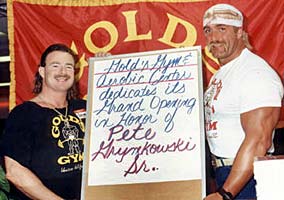 Hiro Matsuda. Brian's first professional match was an inauspicious debut in a tag-team match against two all-time greats, Ivan Koloff and Pat Patterson.
It was a much more confident and seasoned B. Brian Blair that returned home to Florida than the raw rookie the fans had seen a mere two years earlier. Brian proved that you can come home again when he beat Jimmy Garvin for the Florida State Heavyweight championship July 11, 1982 in Orlando.
Brian had proven he was a great technical wrestler but the question was could he take care of himself against overpowering brawlers. Blair answered those questions by successfully defending the championship against both Stan Hansen and Bruiser Brody.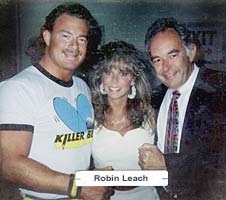 Brian was chosen by Vince McMahon Jr. to join the WWF for its expansion as a national promotion. Brian was part of the first "wrestling boom" in the 80s. His St. Louis match against Paul Orndorff is considered a classic.
In the locker room, he is one of the most liked and respected wrestlers by his peers.
Brian is now a candidate for the Hillsborough County Commission. He says "it's time to give back" as he was in the ring, B. Brian Blair will be tough to beat!