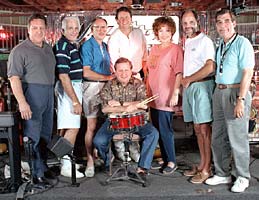 The Fabulous Rockers
1957 ~ 2002
Left to right: Dennis Pupello, Onelio Ochoa, Manuel Gutierrez, Chuck Borris, Donna Lynn Baccarella, Wes Young, Roger Menendez. Seated in front is drummer, Tony Lopez www.FabulousRockers.com
Tampa's #1 all time band started in the late 50's at Jefferson High School. They went on to a marvelous career that still draws large crowds today. Their recording of "Would I Still be Loving You" has the fans running to the dance floor for that "Slow Number".
The following shows who they are, what they did and what they are doing now:
Dr. Dennis F. Pupello (Leader, Pianist & Arranger)
Dennis began piano lessons at age 5 with Mrs. Ofelia Yanez, a popular local music instructor for the very young. He concluded his formal piano training under Maximo Echegary. After graduating from Jefferson High School in 1957, he assembled a dance band and then joined forces with other emerging young musicians to become composer-arranger... and eventually leader of "The Fabulous ROCKERS".
For the next six years, "The ROCKERS" were recognized as the most versatile performing show group in the southeastern United States. This experience culminated with the recording of two original compositions in 1961 entitled "Would I Still Be Loving You" and "Stranger". Following a career decision in 1963, Dennis entered medical school, graduating with honors from the University of Florida College of Medicine. He is currently Chief of the Department of Cardiac Surgery at St. Joseph's Hospital in Tampa. He is very proud of his seven children. Dennis is married to the former Lisa Arcuri. They reside in Odessa.
Donna Lynn Caruso (Baccarella) - (vocalist)
Donna Lynn joined "The ROCKERS" in 1957, when she won a city-wide search and competition for the group's female vocalist. She remained with the group until late 1963, after marrying Dominic (Dick) Baccarella and expecting her first child. Donna Lynn has two daughters, Laura and Francine and four grandsons. She is a lawyer practicing in Tampa with her husband Dominic under the name of Baccarella and Baccarella. She is also an adjunct professor in the Department of Government and International Affairs at the University of South Florida and at Hillsborough Community College.
Onelio Ochoa, Jr. (Vocalist and Trumpet)
Onelio Ochoa, Jr. is one of the original "ROCKERS". His talents include playing the trumpet and vocals. He married his high school sweetheart, Irene and is the father of three beautiful daughters (Desiree, Yvette and Jennifer). He is also a grandfather and has 7 grandchildren. Since his days with "The ROCKERS" he was lead singer and trumpeter with "The Renegade Brass" and "Baytown Brass" bands. Onelio is currently an English teacher at Alonzo High School.
Wes Young (Bass Guitar and Vocalist)
In 1963, after five years with "The ROCKERS", Wes joined "The 5 Chords" (along with former Rocker, Manuel Gutierrez). The group toured the United States and Bahamas with stops in Las Vegas and Lake Tahoe. In 1969, Wes also played with a very popular local trio called "Premium Stuff" featuring blind pianist and singer, Chuck Cusic. In 1982, he joined and is still performing with Tempo Music Company featuring Joe and Mary Jane Stagi. Wes feels particularly fortunate to have played music all these years and hopes to continue playing for a long, long time. According to Wes, "The ROCKERS' reunions bring back a lot of great memories for everyone." Wes is currently living in Dunedin with his wife, Eleanor.
Manuel "The Joker" Gutierrez (Baritone, Tenor, Alto & Soprano Sax, Flute, Latin Percussion, Vocals & Stand Up Comedian)
Manuel began his professional music career while attending Jefferson High School in the late 1950's. He joined "The ROCKERS" in 1958 and remained with the band until they disbanded in late 1963. He then toured with "The 5 Chords". a show group appearing in Las Vegas, Reno, Lake Tahoe and throughout the country, until returning to Tampa in 1968. He continued his musical career locally with the Vic Roland Trio, Chuck Boris Trio, Better Days and Omni. Manuel has been married to the former Yvonne LoCicero for 41 years and has two sons, Wayne and Glen and two grandchildren, Devon and Nicholas. Currently, Manuel is a consultant at a medical drug company and continues his enjoyment of music on a part-time basis, performing with various local groups."The Joker" knows Kung Fu, Tae Kwon Do, Karate and several other oriental words.
Roger Menendez (Alto Sax)
Roger joined "The ROCKERS" during his junior year at Jefferson High School. He performed with the group from 1957 until the group's final performance and later retired from the music industry in 1965. A subsequent marriage produced three children. In 1977, Roger and his family relocated to Jacksonville, Florida to enhance his career in marketing and sales management. He currently resides in Tampa and is in food marketing.
Anthony "Tony" Lopez (Drummer)
Tony started playing drums with local dance bands while he was attending Jefferson High School in the late 1950's. He joined "The ROCKERS" as their drummer in 1958, at the same time as Manuel Gutierrez and Dennis Pupello. He left the band and retired from performing in 1962 to pursue a career as a photojournalist. He was a staff photographer at the following newspapers: The Clearwater Sun, The Tampa Tribune, Florida TODAY, The Palm Beach Post (Director of Photography) and retired from The St. Petersburg Times in the year 2000. He worked as a fulltime photojournalist for 40 years receiving numerous awards for his outstanding work as a photographer. In 1969 he was named the Region 6 Press Photographer of the Year by the National Press Photographers Association. Tony married his high school sweetheart, the former Dini Garcia. They have two daughters, Andrea and Pam who reside in Georgia and Tennessee. He is the proud grandfather of two boys, Noah and Jonah.
Two other members of the Rockers band that no longer perform with the band are as follows:
Chuck Borris (Guitarist)
Chuch joined "The ROCKERS" in 1958, when he was only 15 years old, becoming the band's youngest member. He contunued with the band until 1963. He subsequently received his B.A. degree from the University of South Florida in 1966. He formed a very popular combo, the Chuck Borris Trio, which dominated the local area from 1971 through 1983. In addition, Chuck was on-camera spokesperson for Scotty's, Sears and Publix Supermarkets. Chuck has had original compositions recorded by B. J. Thomas, Merilee Rush and Tommy Overstreet. He continues to be active in music performance and production and currently resides in Post Falls, Idaho.
Artie Alvarez (Vocalist)
Artie Alvarez performed with "The ROCKERS" form their first rehearsal to their last engagement. He was married for 26 years and his greatest pride is his grandson, Christian Fleming Alvarez. Artie is now semi-retired and resides in Georgia.