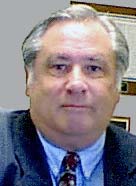 John Sipos
Hometown: City of youth -- Poughkeepsie, NY
Born at Fort Benning -- Columbus, Georgia
Started in the business in 1960, WKIP AM & FM Poughkeepsie NY.
Stations: WKIP AM & FM Poughkeepsie NY, WHVW AM & FM Hyde Park NY, WKNY& WBAZ Kingston NY, freelance for WGY Schenectady NY, NBC News 30 Rockefeller Plaza assistant to Morgan Beatty, Edwin Newman & other national correspondents, the old WSUN (1973) anchoring morning & afternoon drive, the old WQSA Sarasota when it was all news, the old WPLP when it was news& talk, WFLA 970AM anchoring, writing, reporting, ALL 5 Paxson radio properties (talking heads TV for PaxTV Tampa Bay and nationally) on/from Tampa Bay. And, a bunch of other stuff.
Current position: hOUR Tampa Bay for 3 of Infinity/CBS' 6 radio properties on Tampa Bay, airing in decent time slots on weekends. Also, talking heads TV for UPN 44 WTOG TV.
Career Highlight: I happen to think Rush is right about a lot of stuff, even his views on what our industry laughingly calls -- public affairs. With rare exception, all in our business know -- it's awful. For a zillion-463-trillion years I did the anchoring, writing, editing, interviewing, information management thing in the conventional major market way -- working with some of the best people in the business -- Harris, Webb, Taylor, among them. And, I guess the work was reasonably acceptable, enjoying gainful employment most of the past 40 years. But, concurrently across those years -- the personal me -- dedicated countless thousands of hours doing volunteer community service work.
Imagine. A Conservative Republican with a heart for the homeless and hungry and others in need of thoughtful consideration. THEN! Thanks to the Paxson people, in 1990, I was given an opportunity to merge my 2 first loves -- news and talk with creating radio (and some TV) designed to help people. 25 air exposure hours a week. RUSH, YOU ARE 99 & 44/100TH % RIGHT. Public affairs is that throw away time that nobody in our business gives a stink'n darn about. EXCEPT! When it's done right; when it's done by people who understand the business and who genuinely love serving and it is obvious in the work product -- HERE'S ONE FOR RIPLEY'S BELIEVE IT OR NOT: Not only will people listen, they will go out of their way to listen to what I like to call -- Alphabet soup with just an occasional nut; rich with the sounds of the streets and life being lived, and when appropriate -- music -- and filled with situationally driven APPROPRIATE good humor. Not at all like PBS.
That's what I've been doing, and trying to make a living at it for some 13 years now. One of these days, it continues to be my prayer, public affairs will enjoy commercial acceptance in day parts filled with Arbitron (Neilsen) people's ears (and, eyes) and in that moment -- I will become an overnight success. Am I BLUE, yet?
UPDATE: August 2nd 2016
John Sipos – (970 WFLA) passed away on August 2nd 2016 - RIP