James Bond (Frank Laseter)
The Pirate Radio Hall Of Fame
Larry Dean "Swinging" Radio England launched in May 1966 with a predominantly American DJ crew, three of the team all coming from the same town of Moultrie in Georgia. Larry was one of them, the other two being Ron O'Quinn and Jerry Smithwick. Larry's real name was Frank Laseter.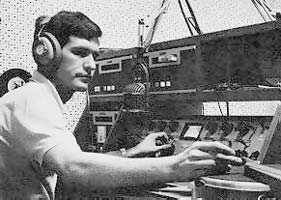 He had started working in radio at the age of 15 while still at school. He had gone on to a number of different stations and, like many of his fellow American broadcasters, had used various names on air. He says: "I first started using Larry Dean as an air name in June of 1963 when I was hired at WVLD in Valdosta, Georgia. I continued to use that name until I left in September of the next year. When I took the new job at WALT in Tampa, Florida, they decided that I should use 'James Bond'. Not what I would have wanted, but it was a job. I returned to Larry Dean when I departed for WPTR the summer of the following year."
WPTR in Albany, New York, had a fine jingle package produced by PAMS of Dallas and when Larry left there to join "Swinging" Radio England, he brought a copy of the jingle master tape with him. These jingles were too good to waste and a number of his new colleagues chose their DJ names from the tape. Chuck Blair, Johnnie Walker, Greg Warren and Boom Boom Brannigan were all WPTR broadcasters who, unknowingly had identically named colleagues on this side of the Atlantic. Radio England did not last long and Larry did not stay for its full term. In late summer 1966 he returned to America and resumed his career there.
He can currently be heard, using his real name, as the morning news man on country music station WSOC in Charlotte, North Carolina.