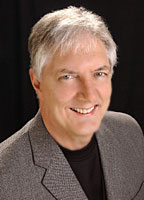 Jack Harris
Without a doubt, Jack Harris is the most popular and most recognized media personality in Tampa Bay. Currently he co-hosts WFLA A.M. Tampa Bay, often the highest rated morning show in the market; but it didn't happen overnight, we'll let Jack fill you in:
I was born and reared (if you'll pardon the expression) in a small town in West (By God!) Virginia. How small was it? The 7-11 closed at 5pm. There was only one massage parlor, and it was self-serve. The sewage treatment plant was a two-holer with a moon on the door. I graduated Valedictorian at Logan High School (with a D+ average), attended Davidson College in North Carolina (where I made straight A's... the rest of my letters were a little crooked) and was graduated from West Virginia University with a B.A. in History (minored in sex education... people kept stealing the visual aids).
Later, I spent two years as an officer in the U.S. Army, (originally, to avoid the draft, I left the country. I couldn't afford the cost of living in Canada, so I moved to South Vietnam) during which time I served in Vietnam. (I was cited for once throwing myself on a plate of warm chipped beef on toast... didn't get a purple heart, but later came down with an inflamed liver).
My radio career began just out of high school in Logan at WVOW (they were looking for a newscaster with a high squeaky voice). Spent a decade minus service time at WAJR in Morgantown, W. Va., and came to the sunny Tampa Bay Area in 1970. I left for a year in 1974 to serve my country at WRC and WKYS in Washington, D.C. (I stayed at The Watergate Hotel the first weekend... no key to my room, we just broke in). I was on the original broadcast team for the Tampa Bay Buccaneers (I did the locker room shows when they were 0 and 26 it was like having to go to the Republican locker room after The '96 Presidential Election), was with The Tampa Bay Bandits (skoal stains all over my microphone), was voice of the USF Basketball Program (I knew they were in trouble when they recruited a center named "Shorty") and the Tampa Bay Rowdies (strange sport used their feet instead of their hands which made it painful when they scratched their crotches).
I also had some Television experience as the voice of The Jerry Lewis Telethon for eight years (Jack's Kids), Gasparilla and Festival of States Parade Coverage (I loathe a parade), The Buccaneer Coach's Show for five years (I asked Coach John McKay about the team's execution after a particular game, and he replied, "I think executing them is a good idea") and the Noon Show, Pulse Plus on Channel 13 for nearly six years, and am now the Host of "Harris Live" at weekdays on WFLA-TV, Channel 8 (is going from 13 to 8 a move up or a move down?). Basically, I'm a radio person. I have a better face for it, although some folks say I have a voice for newspaper. Just ask my wife, Joy and my son, Jackson.