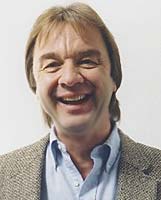 Howard Hewes
This Pittsburgh native was first heard in the Bay area on WCWR, the "Sound of solid Gold" in 1969. It was not long before he made quite a name for himself, making stops at WINQ, WLCY and WHBO. Howard also did a talk show on Sun Radio Network in Tampa Bay before moving to Atlanta in 1994.
In Atlanta, he worked for two nationwide radio networks - United Broadcasting Network & i.e. America. Howard could also be heard for three years on the Atlanta FM powerhouse Peach 94.9 doing an "oldies" show. The morning television show host for "Good Morning USA," which can be seen throughout the United States on cable stations and by satellite.
Update 9/25/19: Howard Hewes has passed away. He will be dearly missed.
Email: tmm@howardhewes.com
Website: www.howardhewes.com
Here's a couple of pixs that proves that Howard Hewes really did get married... and wore shoes and a tie, too.