Gordon Solie
He redefined professional wrestling from the late 50's through the 90s. Gordon made man a believer in wrestling during his era, giving credibility where others failed... A talented man, he played set up to the great stars of the day including Jack Brisco & Dusty Rhodes..
Solie also worked in radio, doing news at WTSP (later WLCY) in the 1950's, and at WYOU in the 60's and 70's.
Gordon passed away in 2000 from cancer. His passing leaves a big void in the world of wrestling announcers. "Before him there were none, after him there shall be no more".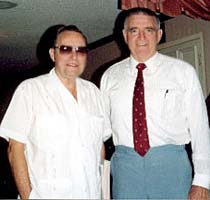 Gordon Solie & Don Curtis