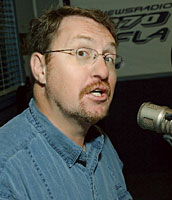 Gordon Byrd
Before I was in radio, I was a talk radio caller. In my misspent youth during the 70's and early 80's, I usually called in as some character, trying to bend the topical conversation toward the absurd. That was a hard thing to do back then, as talk radio took itself much more seriously back then.
I would often call up as a redneck from a bar on Nebraska Avenue, offering unsolicited opinions not unlike Foghorn Leghorn or his radio ancestor, Senator Claghorn. Another of my characters was dubbed "Jim Beam" by one of the hosts. Beam was mainly an advocate (though not a very effective one) for the then-controversial concept of raising the drinking age back to 21. The 1980 election was a great time to pull the chains of the usually portentious and often pretentious talk hosts of the era. Sometimes I would call in as a brittle, cartoonish version of a liberal, then turn around and call in with a different voice as a conservative and berate myself!
Deciding to go legit after being threatened with arrest by Drew Hayes, I became a board operator at WFNN and later WPLP-AM radio during the 80's, which many consider to be Tampa Bay talk radio's golden age. This was the era of hosts like David Fowler, Bob Lassiter, Tim Coles, Richard Shanks, Jack Ellery, Dick Norman and some fellow named Webb. I worked with or around most of these legends (the exception being, regrettably, Norman). I even managed to wheedle my own show during some of the 80's, starting with the local "swap shop" show and graduating to a general-interest show on the weekends. This was back when even a talk station in Tampa felt it had to have someone live and local on a Saturday night, which hasn't been the case since the mid-90's or so.
I received karma from my earlier career as a crank caller as I was often burned by various mutations of the legendary Lionel. Oh well, I also got some dates off the phones as well, especially Sunday nights when the astrology show was on.
New ownership came to WPLP and promptly wrecked the station, then tried desperately to revive it with fresh new talent. I got to know people like Jay Marvin, Tom Bauerle, and Mark Davis, all of whom are rock-solid legends in the business now in their respective markets , but who found Tampa a treacherous market in which to gain a foothold (especially at WPLP, which had been renamed WTKN and promptly disappeared from most people's consciousness).
I got to wander through the smoldering wreckage of WTKN as Program Director for three years. During that time, the station was sold to Paxson Communications, the company that later put the PAX TV network on the air. I was told to gear up the station for an all-news format. Not having a big budget to work with, I hired a lot of talented – but often very green – people, and gave them a lot of responsibility. Since I didn't have a news background at that time, it was the blind leading the blind.
But it was an energetic group and the sparks flew when they were all on a story. The atmosphere was a LOT like the 1990's TV comedy NewsRadio – I often wonder if one of their writers had been spying on our little cubbyhole on 4th Street in St. Pete. The whole gear-up exploded when it was exposed that we were trying to launch a 21st-century news operation with 1990's-era DOS-based software. Long gaps of dead air and embarrassing pauses as sound bites failed to play brought our momentum to a grinding stop. Today it would be a snap.
After that fiasco, they brought in somebody else to whip the troops into shape, and I moved on to other duties. Eventually, they brought me back to the newsroom, where I worked the phones aggressively and got into street reporting. From about 1992 on, I would file stories from time to time for CBS News Radio. I continued doing that after WHNZ shut down its news operation in 1999.
Today I split my time between the APD position at WHNZ and covering stories of national interest.