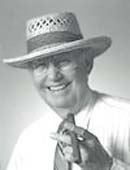 Gil Whitton
Gil Whitton, a resident and was a broadcaster in the Bay area for 35 years, bringing a lifetime of experience and expertise in plant care to Florida Gardening.
Born and raised in Missouri, Gil attended college in his home state as well as in Maryland and Florida. He holds an BA degree in business, a BS in horticulture and a Masters in plant pathology and nematology.
He was appointed assistant county agent in Pinellas in 1957, and became director of that office in 1965.
Gil's experience with the media is almost as vast as his experience with horticulture. He shared his knowledge with the WFLA-TV audience for 15 years, and appeared on Channel 10 for over a dozen years.
In addition to his work in the electronic media, Gil has written newspaper columns for more than 30 years. His work has appeared in national publications, and he is the author of two books on plant care.
In order to share his enthusiasm for plants with as many people as possible, Gil has held a full professorial rank at the University of Florida, since 1974, and has taught academic and continuing education courses, including non-credit workshops, seminars and conferences.
Gil retired from broadcasting this past Spring. He lives near Ocala Florida with his wife. Gil suffered a heart attack and stroke a few weeks ago, and is recovering.
Truly one of the all time giants of specialized weekend programming.
Update: March 2005
Gil Whitton, former 970 WFLA Gardening Show host dead at 83