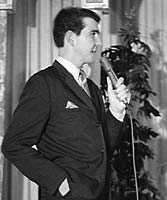 Gil Cabot
Gil was Boy Wonder, starting at WALT as a 15 year old weekend disc jockey, while attending Hillsborough High School. Every one knew Gil, he was a very creative guy we knew would go some where and make it big.
Gil started a couple of record labels, Sundi Records and Paris Tower. He would record local groups at H&H Productions in Tampa and garner airplay on the local stations.
Gil, blessed with a talented ear, felt something special about a song in 1969, a group from East Bay High School known as "Mercy" had recorded a song for him a year earlier and then broke up. The group was spearheaded by Jack Sigler, Debbie Lewis and Carlos Sayaz.
Gil released the song "Love Can Make You Happy" 3 times, and on the final release, it started to climb the charts. The band had broken up because Sigler had joined the Navy. Here he was, with a hit record and no group. He got 3 professional background singers who had been studio vocalist on the song, to tour the country promoting the hit, as the group "Mercy". Cabot rounded up local group "Mighty Manfred & The Wonder Dogs" to back them musically.
The group appeared on Dick Clark's American Bandstand, The Ed Sullivan Show as well as other hit shows of the day.
Meanwhile the original Mercy was signed by Warner Brothers at the urging of producer Steve Alaimo of Miami. They went into the studio, re-recorded "Love Can Make You Happy" and went on the road themselves. Their version never measured up to the original produced by Cabot, it just could not be recreated. The group never had another hit.
Gil is now in Hollywood, California -- based at Warner – Hollywood Studios (323-549-9300). He comes home to Tampa frequently, he still has family here.
He has been linked with major stars over the years. Cabot has always had the knack of turning lemons into lemonade, even when the tragedy of being sent to prison in 80s. He was held responsible for something that an employee had done, but he successfully produced a multi award wining documentary called "Inn-mates" about prison life, and was successful in clearing his name of that false charge. From that experience he also launched the damage control public relations company, "ArrestedMedia", which consults to high profile people, like Martha Stewart, Michael Jackson, and others who have to manage negative news coverage.
During Cabot's radio days when some announcers refused to interview professional wrestlers, Gil gladly interviewed them and was brought into their very special world, where even today Cabot is responsible for packaging major professional wrestling programming around the world.
To this point in history, there has been no bigger success story out of Hillsborough High.