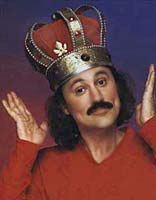 Gallagher
The watermelon-smashing comedy icon grew up in South Tampa as Anthony Leo Gallagher, but his friends called him "Butch" because he "was tough."
The comedy wonder spent a lot of time as a boy riding his bicycle back and forth in his neighborhood along El Prado Boulevard near Manhattan Avenue. Friends remember him shouting insults and odd comments to anybody who would listen as he passed them on his souped-up Schwinn.
His dad owned a skating rink on North Armenia Avenue just north of Osborne and that's where he spent lots of his time early on.
Comedian Gallagher as he appeared in the 1964
Plant High School
Yearbook...
He graduated from Plant High School in 1964 and pursued a degree in chemical engineering at the University of South Florida. There he found a sucker for his extraordinary college pranks, Oracle photographer Tony Zappone. Once he staged a protest of Morrisons' greasy food by setting a dozen pigs loose in the University Center cafeteria for the benefit of Tony's camera. The stunt got both Gallagher and Zappone an invitation to the Dean of Men's office.
Several between-classes jobs kept his tuition paid, the longest running being as manager of the now shut down Lum's Hot Dog Restaurant on West Hillsborough Avenue.
He remained at USF until 1970, finally graduating once he had been passed over several times for the Vietnam draft and felt it was safe to leave. Dozens of companies turned him down for employment, including The Tampa Tribune despite a good word on his behalf from Zappone with the personnel people. Stauffer Chemical Company finally put him to work but a series of tasteless jokes coupled with his keener interest in show business earned him a pink slip.
For a while he was road manager for singer Jim Stafford, an area performer famous for his specialty songs like "Spiders 'n Snakes" and "My Girl Bill." After a time of service to Stafford he cut out on his own with a comedy act, making appearances on talk shows like "The Mike Douglas Show" and "The Merv Griffin Show." He appeared a number of times on "The Tonight Show" but only on nights when Johnny Carson had a guest host "because Johnny just didn't like me."
Later he fine-tuned his performance strategies and wrote new material each year for various editions of his road show at venues all over America. The signature ending of his performances was a demonstration of the "Sledgomatic," a huge sledgehammer that he used to pulverize both fresh and canned veggies, fruit, and condiments. He always concluded his demo by whacking a giant watermelon. Fans in the front 15 rows were given plastic sheets to protect themselves from flying catsup and other food debris.
In the 80's, he used his own money to videotape a dozen one-hour comedy programs he sold to HBO, The Comedy Channel, and home video distributors. The idea was a resounding success and added gadzillions to his already cramped bank account.
He was arrested in St. Petersburg in 1983 for possession of marijuana after police stopped a car he was a passenger in for a traffic violation. He told a Tampa audience not long after that the only reason he was taken into custody was because he "knew Hugh Smith."
Butch (if you dare to call him that) has slowed down in recent years but still does his act around the country. He was in Tampa just a few years ago to do a show at USF's Sun Dome for Homecoming festivities at his alma mater.
He now lives in Palm Beach with his wife but returns to Tampa often to share watermelon with family members who still live in the area.
Update: March 1, 2005
From:

Gallagher


Sent:

Tuesday, March 01, 2005 6:24 PM


To:

tedd@teddwebb.com


Subject:

Gallagher the comedian's bio
Hi Ted, this is Gallagher. There are numerous errors in my bio. My name is Leo Anthony Gallagher Jr. thus the need for a nickname given to me by my father, Leo Sr. I've lived in California since 1978. My office is in Wellington, Fla. because my manager/promoter RuthAnn lives there now. Call her at 800 791-0021 for my real bio.
I never used my own money for my Showtime specials and I was never on HBO. I worked for Florida Nitrogen later Kaiser Agricultural Chemicals as their chief chemist when Jan C. Uterwick left to run his dad's worldwide shipping company in downtown Tampa. The plant is still there on 301.
I lived at 4413 El Prado and went to Manhattan Elementary, Madison Jr High, then Oak Grove Jr. High, Hillsborough High and moved back to graduate from Plant in 1964 altho the Dean of men, later big wig in the school system, expelled me on the last day of classes. My guidance councellor who later worked as an executive for Tampa Electric helped mediate the situation before graduation night. I graduated 29th in a class of 600. The pigs were never loose in the cafeteria and I had a work/study scholarship to USF that paid for my tuition $115 a trimester. I worked for the coach who I visit with each time I return to town.
I worked as a chemist until I graduated not after, then I went to Los Angeles where I was hired by Allied Chemical to work as a salesmen out of Chicago. I've never had any problems getting hired to do anything in my life. I was a cab driver in Tampa and built houses for Richmond Construction and worked for Grand Way on Hillsborough Blvd. near my father's rink. I was Southern Regional Skating Champion many times. My degree is in English Literature. My student number was 14059.
I also worked with Charles Fuller Productions who recorded the Snoopy and the Red Baron hit by the Royal Guardesmen. I wrote commercials and acted in them for Chuck Fuller. I called Cid Rudeau an agent in Clearwater to start my comedy career. I did Sledgematic for years before I ever decided to smash a watermelon. Jim Stafford let me get up late at night in clubs where he worked like the Elbow Room on Longboat Key to practice it. Call Jim at his theater in Branson Mo. We still talk and collaborate on routines and jokes. Who's Tony Zaponne and Hugh Smith?
I haven't been married since 1990. I have two x-wives and one child by each. I had to sue one of my brothers in Federal court in 2000. My mother lives somewhere in Florida. I was arrested in 1968 for marijuana also and that is what kept me out of the draft until the end of the war. I was Kenny Rogers opening act for 100 dates in 1981 and my manager was Ken Kragen the guy who made everyone hold hands across America. My video tapes have resently been bought to be re-released by Anchor Bay over 20 years after I made them and they are still entertaining. I think I'm the most famous person from Tampa.
Gallagher