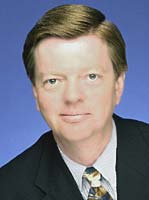 Gabe Hobbs
Responsible for programming oversight of Clear Channel's 250 News, Talk and Sports formatted stations, eight state news networks and various play by play sports networks. Clear Channel is the rights holder to over 100 professional and NCAA sports franchises. Also the in-house consultant for Premiere Radio Networks including Fox Sports Radio.
Once based in Clear Channel's Tampa offices as Vice-President of Programming, News/Talk/Sports Clear Channel Worldwide. Prior to that, spent 2 years based in the Atlanta market after previously spending 10 years in Tampa. On the original management team for the now infamous Power Pig. Also, O.M. for WFLA radio in Tampa.
Gabe's radio career began in Paducah, Kentucky in 1973. Programmed CHR, AOR, AC, News/Talk, Sports and Oldies in markets which include Evansville, Indiana -- Nashville and Knoxville, Tennessee.
Update August 12, 2010
Gabe is no longer at Clear Channel and have moved on ... Currently President of Gabe Hobbs Media, LLC, a company specializing in Talent Management and media consulting.

Gabe Hobbs
813.938.3870
www.gabehobbsmedia.com