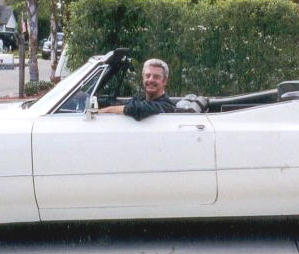 Frank Ferreri
Started one week after my 17th birthday as a part timer at WWIN, Baltimore. In 1965 joined the staff at legendary WYRE, Annapolis, Maryland smack in the middle of the Baltimore/Washington market with a signal that traveled the length of the Chesapeake Bay. Did afternoon drive and eventually PD of the station. In 1970 put on one of the nation's first pure top 40 FM's. WCCK, Erie, Pennsylvania. CCK became a monster in the early 70's. During the WYRE and WCCK years I was known as Ron Rondo.

In 1976 one of the owners of WCCK bought WAZE in Clearwater and after 6 years on Lake Erie, Florida looked REAL good! An incredible amount of talent passed through the WAZE front door! After WAZE I learned sales from some real pros at WQYK, however, my heart was still in air work and programming. Scott Robbins hired me at (then) 96 Kicks. He was the one who gave me the name Frank Shannon. Also worked with Scotty at WHBO. The HBO gig with Scotty, Howard Hewes, John Boswell, & Jeff Laurence was the most fun I've ever had in a radio station. Scotty was the best!

From there I was so very fortunate to meet a giant. Bill Garcia. Billy G is a pro's pro. He hired me at FLA and I worked various formats on both AM and FM.

The real break of my life came in 1986. I was hired as GM of a class A FM in New Port RicheyThe station was owned by a newspaper company from Pennsylvania and was drowning in red ink. We put on a sleek upper demo format and hired some really talented people. WLVU became an excellent local radio station. We launched a ten year upgrade project and in 1998 was granted the upgrade to become a C2. WLVU was sold eventually to Cox. WLVU was a labor of love and the most rewarding experience of my life.

After LVU I took a year to improve my golf game. It didn't improve! So, I went to work as an ad rep for The Suncoast News and Tampa Tribune and was there until last September.

Presently, with radio still in my blood, I'm seeking an opportunity to get back into the greatest business in the world.