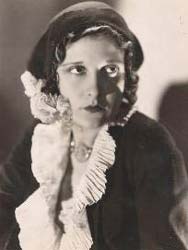 Evelyn Brent
Evelyn Brent, one of the first matinee idols of the silent screen, was born in Tampa on October 20, 1899. Not only was she to capture the hearts of the earliest movie goers but she would be mother to one of Tarzan's "Janes" in movies that would be filmed some 60 years later.
Brent was born just north of downtown Tampa when Tampa was young and there were no cars, only dirt roads and horse buggies. As a youngster, she wandered the unpaved streets of Tampa and enjoyed with childish wonderment the early pioneers. Her family gathered often alongside the Hillsborough River on the grounds of H. B. Plant Hotel, now the University of Tampa. She attended city schools until age 10 when her mother died after which she and her father moved to New York City.
She got into modeling as a teenager and appeared in films at the Popular Plays and Players studio in Fort Lee, New Jersey. Following the First World War, she went to London where she worked in films and on stage
Returning stateside in 1922, Evelyn established herself in exotic, "dangerous" roles, notably in the late-silent efforts of director Josef Von Sternberg and she became a well known star of that era. Luckily, Evelyn's voice matched her screen image perfectly, and she had no trouble adjusting to talkies.
Unfortunately, her earliest talkie starring roles were box-office failures, and by the mid-1930s she was consigned to secondary roles. She took occasional sabbaticals from Hollywood to tour in vaudeville, rounding out her acting career in such Monogram cheapies as Bowery Champs (1944) and The Golden Eye (1948). She worked as an
actor's agent in the 1950s, then retired, periodically emerging from her Westwood Village home to appear as guest of honor at theatrical revivals of her best silent films. Her married name was Evelyn Brent Ashe.
She died July 4, 1975.
Her daughter, Eve, has been active in films and television since the 50's, starring and "Jane" in several Tarzan flicks with Gordon Scott. She's played roles on dozens of television programs through five decades and most recently appeared in "The Green Mile" with Tom Hanks. She lives in Los Angeles and takes on new projects to this day.
As Jane In Tarzan