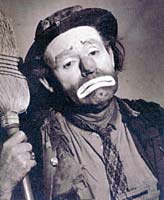 Emmett Kelly
Emmett Kelly Sr. was the most well-known of the tramp clowns of the circus and a frequent visitor to Tampa. His character, Weary Willy, was the perpetual underdog, who never gave up - and, because of it, occasionally won.
The most famous clown in the world, Kelly was in Tampa often to record television commercials for clients all over America and to spend time with close friends.
In 1975, while at WFLA-TV to tape a spot for a Washington, D.C. department store, he had an hour-long conversation about world events with Channel 8 reporter Tony Zappone. He then excused himself to put on his makeup and returned 20 minutes later as Emmett Kelly to a shocked Zappone, who had no idea he'd been talking to the world's most famous clown.
The famous funnyman had many friends he had made from his circus days who had settled in the Tampa Bay area upon their retirement and could often be seen with them at area events…if you knew what he looked like without his clown makeup.
Kelly was born in Sedan, Kansas. His first career was in cartooning. His circus career, which spanned 55 years, began as a trapeze performer with the Howe's Great London Circus. He went into clowning (portraying Weary Willy, a cartoon character he had drawn years earlier as a cartoonist). He worked with Hagenbeck & Wallace, Sells-Floto, Cole Bros. and London's Mill Circus.
In 1942 he joined Ringling Bros. & Barnum and Bailey Circus, where he appeared until 1956. While there, he appeared in the movie The Greatest Show on Earth with the legendary James Stewart. His most famous routine was most likely the sweeping the spotlight, which he used in many of the commercials he did at Tampa TV stations. Following the departure from the circus, he worked in night clubs, indoor circuses, trade shows and resorts.
He performed for royalty of the world; Queen Elizabeth, Winston Churchill and Harry Truman. Kelly also appeared in Broadway plays, on TV and in the movies. In 1956 he clowned with the Brooklyn Dodgers baseball team.
In 1957 he joined the Shrine Circus. He settled in Sarasota and continued appearing in commercials and on special shows until he was eighty. He died on March 28, 1979.