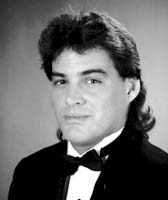 "Elvis" Brett Wright
He was Brett Wright, and Elvis was his radio moniker. One of the newbeats when the Power Pig came to town and blew out Q105.
Elvis was not only a DJ but also worked Promotions for the radio station. Through his efforts, the Pig knocked off the Q in 74 days, a new modern day record.
Brett Wright left Tampa Bay in the mid 90's to work in Pensacola.