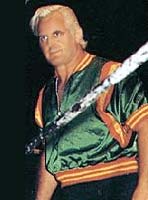 Eddie Graham
Real Name: Eddie Gossett
Stats: 5'10" 230 lbs.
Born: 1930
Although his name might not be familiar to many younger wrestling fans today, Eddie Graham's importance and legacy in wrestling can not be denied. Whether as an elite superstar during wrestling's "Golden Era" in the 1950's and early 1960's as a key member of the legendary "Golden Graham" wrestling "family" or as owner/operator of Florida Champion-ship Wrestling throughout the 1970's & 1980's (which was perhaps the most respected and prestigious of all the many great N.W.A. regional territories), as one of wrestling's best business minds and trainers, or because of his career-long support of amateur wrestl-ing and local charity -- Eddie Graham was universally known as a true credit to the profession...
He made his wrestling debut 1947 at the age of 17 in Chattanooga, and was paid off, according to Graham himself, with a 25lb. turkey! He worked hard at his new profession and slowly rose in the ranks, and eventually got a big break in the form of a wrestling "family".
Along with "brother" Dr. Jerry Graham, the duo became the #1 tag team all along the East Coast (in Boston, New York, Washington DC, and other territories that would later become the WWF) and a huge box office and television attraction. The young, muscular and supremely talented "Golden" Graham (who's real name was Eddie Gossett) was one of wrestling's elite superstars and the Graham Bros. wore the much sought after United States Tag Team title belts in 1958, 1959 and twice in 1960. Graham also had a fair share of success with his other "brother," Luke Graham.
With the start of the 1960's Eddie Graham traveled to Florida, forever changing wrestling in the Sunshine State for the better. He won the N.W.A. World Tag Team title Tag Team title 7 times between 1961-1967, with partners like Bob Orton, Sr., Sam Steamboat and Ike Eakins. He also dominated wrestling in the southeast as the N.W.A. Southern Heavyweight champion twice in 1962 and again in 1963.
But a freak accident in a locker room in 1968 nearly ended his career, and took him out of action for 15 months. While lacing his boots, a 75lb. steel window fell on Graham's head, and Graham (who was already partially blind in one eye) suffered torn retinas in both eyes and 300 stitches worth of damage to his face and head. The injury was a major setback for the popular Graham, although he was eventually awarded over $23,000 in damages by the Florida State Legislature.
Eddie Graham's civic duties outside of the ring truly made him an asset to the sport. His relentless pursuit of establishing amateur wrestling camps (Graham was personally responsible for getting amateur wrestling into Florida high schools, he established a $500 Wrestling Scholarship for the University Of Tampa, donated $10,000 to the University Of Florida in 1978 to create a wrestling room and many other contributions to the sport) and his work with youth groups brought him many honors from various civic groups.
In 1963, P.A.L. gave him its Achievement Award. In 1970, The Boys Club honored him with its Man-Boy Award and in 1978 the Tampa Sports Club made Eddie Graham its Sports Citizen of The Year for his many contributions to Florida amateur wrestling. In 1980 Sen. Richard Stone awarded Graham an American flag that had flown over the White House, and proceeds from an "Eddie Graham Happy Birthday Roast" went to the Leukemia Fund. The Florida Sheriff's Boys Ranch, which was a major project of his, also honored him in 1982.
Graham once told a newspaper "When I was a kid I peddled newspapers in Chattanooga. You know, a kid can get into alot of trouble on the street. The newspaper gave us all memberships to the YMCA. It was a gift, otherwise I wouldn't have had the money to go. That's the way I became an athlete, and it was where I had my first encounter with wrestling. God gave me a decent enough body to be an athlete that put me in the public eye. Not only do I have an obligation to my family, but also to my community. I feel like I can influence young people."
In the early 1970's he introduced his son Mike Graham to the world, and the father/son duo went on to gain tremendous success. They won many tag team championships in the early and mid 1970's, including the Georgia and Florida Tag Team titles.
Graham was 55 when he died from a self inflicted gunshot to the head, on Super Bowl Sunday, January 20th 1985.