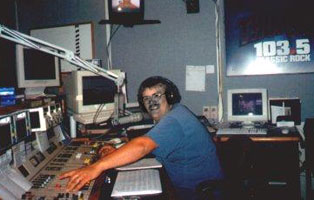 Bud Money
Bud left Thunder 103.5 in March of 2003 because of his Mom wanted to go home to pass away and she did a few days after they made it home here in Central New York. Here is what happened to Bud Money after before and after Thunder:
• 1990-1992 KG-104 (WKGW-FM) Utica,NY known as just as Bud (AC Format)
• 1992-1994 Rock 107 (WRCK-FM) Utica, NY known as Bud in the Night Time (CHR became Classic Rock in 1994)
• 1992-1993 96 Frog (WFRG-FM) Utica, NY known as Jumper (Country)
• 1993-1994 Hit Country 108 (WHEN-FM) Syracuse, NY as Bud More (Country)
• 1994-1995 News Channel 2 (WKTV) Utica, NY Camera Op.
• 1995 MOVED TO TAMPA BAY AND STAYED OUT OF RADIO UNTIL 2000
• 2000-2003 Thunder 103.5 (WTBT-FM) Tampa, FL known as Bud Money and did some fill in on 98 Rock.
• 2003-2004 B104.7 (WBBS-FM) Syracuse, NY known as Bud Money (Country) -- Also worked with the Total Traffic Network as a traffic reporter for the whole Syracuse cluster.
• 2004-Present Froggy 97 (WFRY-FM) Watertown, NY now known as Bud Green doing the afternoon drive and the webmaster. Check out the website at www.froggy97.com
Visit Bud's personal site at www.geocities.com/phonixdj3
"I hope to come back to Tampa in the near future."