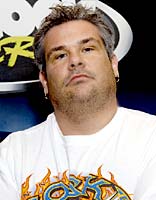 Bubba "The Love Sponge"
Top dawg in morning radio in Tampa Bay. 98 Rock is red hot when this guy is on. He will say and do what others won't, and gets away with it. Recently rated R&R Magazine's DJ of the year
Bubba also wrestles part time, having faced some of the biggest stars of the WWF.
Bubba's show was fined $775.000 by the FCC, the largest fine ever levied on a program, and was subsequently let go by Clear Channel in March of 2004