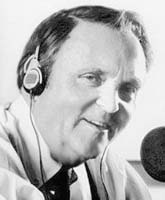 Bruce Williams
One of the most trusted and recognized names in the business. Bruce Williams is heard nightly coast to coast from his home in New Port Richey, Florida.
His program originally was broadcast from New York City, but the warmth of Florida's west coast lured him here in the early 90s.
Bruce has done many things in his life including being Mayor of a New Jersey town, flying his own airplanes, even surviving a crash in one of them.
For many years, starting in the 1980s and lasting through the late 90s Bruce was heard regularly on Newsradio 970 WFLA, and also on 570 AM and 1250 AM. His advice on financial matters is second to none.
Bruce is an amateur magician, I have personally seen him entertain crowds at parties for hours with his slight of hand.
Truly a first ballot selection to the Tampa Bay Radio Hall of Fame.
Update Feb 13th 2019...
Hall Of Famer Bruce Williams Dies
Williams began his nationally syndicated show for more than 29 years. Williams died Saturday at his home near Tampa after a brief illness. He was 86.
Check out the full story Below...
https://radioink.com/2019/02/11/hall-of-famer-bruce-williams-dies