Brooke Chamberlain
Brooke was best known in Tampa Bay for his chant "The Beatles Are Great!". Young Brooke was a star at WALT radio in 1965-66. Real name Frank Edmondson, got his radio name from his home town and school. Brooke was from Fort Brooke (Tampa) & Chamberlain from his high school.
Brooke left WALT and started a national Contemporary Christian Radio Show "A Joyful Noise". He has become quite a star on the Christian music circuit as a writer and lecturer. He is now known as Paul Baker, and is also the Operations Manager and Program Director at "The Word" 1070 AM in Houston, Texas.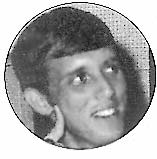 Brooke in 1965
During his WALT years, he recorded one song with a local group called Forvus (4 of us). He was also co- publisher of "Love can Make You Happy" by Mercy. The song sold over 1 million copies in 1969, but resulted in a long dragged out lawsuit with co-publisher Gil Cabot. Brooke was in the US Army in Germany at the time, and had a tough time fighting the lawsuit. It is rumored he did not get one penny from the sales of the record.
A great guy, warm smile, and a heart full of love.