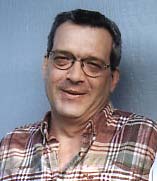 Brock Whaley
Brock Whaley was father of "underground radio" in Tampa Bay, establishing "The Underground Rail-road" at the University of South Florida radio station WUSF. He delighted thousands searching for that "non bullshit environment".
Brock then did his stint at WFSO with Art Williams and Tedd Webb before departing to bigger and better things.
Whaley is definite "Classic Rock Hall of Fame" material. Here are his stats:
Brock Whaley (B. Rock)
WUSF [Tampa] 1971
WFSO [St. Petersburg FL] 1973
WQSR [Sarasota] 1975
WORJ [Orlando] 1978
KAZY [Denver] 1979
WMET [Chicago] 1980
WSHE [Miami] 1983
KPOI [Honolulu] 1983
KRTR [Honolulu] 1994
KHNR [Honolulu] 1995
KPOI-FM [Honolulu] 1996-2000
WSB-FM [Atlanta GA] 2001
WFOX [Gainesville GA] 2001
Was: Part-time at Adult-Contemporary WSB-FM, Atlanta and Oldies WFOX-FM, Gainesville, GA... Currently: The producer for the "Dream Doctor Show" on Cox Radio Syndication.
Update: 11/22/2005
am working "swing" for Cox in Atlanta. The Dream Doctor is no longer done from here. A nice two year gig, though.
I have finally begun a book about the more unusual twists, and funny stories on broadcast history. Maybe I should list my latest job as "Broadcast Historian" I mean, no one else remembers WEBK on 1590 in Tampa.
--- Brock
Email: Brockradio@aol.com