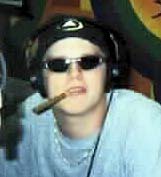 Brian Holmes
Brian is one of the younger members of "Where Are They Now?".. He is a great one, and will be a name many will remember. This kid has radio running through his veins, he knows it better than many much older than him.
Talented, energetic and versatile are Brian's main attributes. "Diversity is what kept me in Tampa Bay... anything from jocking urban morning drive (me being white) to traffic reporting, to being the youngest guy jocking 60's oldies full time to board op'ing talk shows."
Here are some of Brian's credits; Clear Channel Traffic (formerly Airwatch), WFLZ FM (World Famous 93.3FLZ), WFLA AM (Newsradio 970 WFLA), WHNZ AM (1250 Wins), WVYB FM (103-3 The Vibe)-Daytona Beach WRXB AM (Star 16), WSRZ FM (Oldies 106) & WSPB AM (Newsradio 1450), WTBB FM (97X) & WILN FM (Island 106)-Panama City, Metro Networks Traffic, WTMP AM WYUU FM (U92), WYTA AM, Music Forum Magazine, Tuned In/Radio World Newspapers, WSUN AM, Independant Broadcasters Network, WUAL FM/WQPR, FM Tuscaloosa/Muscle Shoals, AL, WZBQ FM (Z102) Tuscaloosa/Birmingham, AL, WIDO FM (Jamz 104.3) Tuscaloosa, AL,
As you can see, Brian has been there, and done it. Keep your ears and eyes on him, he is destined for glory.
Brian's web pages are:
www.933flz.com/brianholmes.html
www.933flz.com/holmespowerpiggers.html
E-Mail: HolmesIsOnFLZ@aol.com