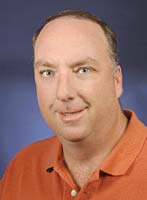 Brad James
This Chamberlain high School grad could have made it as a Golf Pro, he is that good at the game, but he chose radio instead.
Brad started at WFLA in 1984, working on the Tampa Bay Bandits Radio Network. He quickly became a DJ on 93.3 FLZ (Z93), did some traffic reporting, produced successful talk shows such as Paul Gonzalez, Dick Norman, Bob Lassiter, Jack Ellery, Mike Levine, and Tedd's Webb's Sports Huddle.
Brad was the Production Director for 13 years for WFLA Radio and 93.3, was instrumental in getting the Power pig on the air. In 2000 he was named Program Director for 620 WDAE The Sports Animal.
Great smile, warm friendly approach to life made him a great asset to Clear Channel.
Update: 11/22/2005
Just wanted to update on how my career has changed for the better since leaving CC. I was named VP of Programming & Marketing for Genesis Communications as of August 1st., 2005. As of November 19th. 2005, I became VP and General Manager of Newstalk 1040 WWBA and SportsRadio 1470 WHBO.
-- Brad James