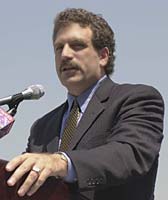 Brad Jacobs
In the years since he left Tampa as Director of Alessi Promotions Brad was the programming executive in charge of the very successful USA Network's Tuesday Night Fights.
When that came to an end in 1998, he Executive Produced an innovative boxing / hip-hop show called Thunderbox. Brad currently owns Global Productions which is in the television/boxing bus-iness.
Brad says "Our most significant client is Roy Jones Jr., who you know as the Pound for Pound best boxer in the world. I run all of Roy's boxing business operations."