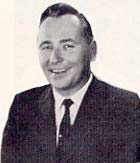 Bobby Lyons
Great entertainer, great voice, fantastic personality. Everyone loved Bobby Lyons. He worked at WFLA in Tampa Bay in the early 1960s and was their morning man.
He left to go to Miami where he worked for several years. Classy deep voice, standard for DJs of his era.
Paul Woodward says "As a Radio person during the 50's-70's -- I began hearing Bobby Lyons and his den in Miami on WQAM, he left WQAM and spent 1 year in Philly, on WIP... came back to Miami and was on WIOD, WKAT, left Miami for Ft. Lauderdale, WWIL, wore his welcome out in South Florida and moved to Tampa. He was on many stations, WFLA, WALT, WLCY & WINQ. Bobby was very talented, but booze got in his way... He was one of my all time favorites."
Bobby passed away in the early 1970s.