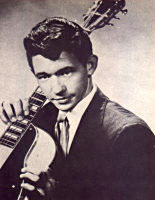 Bobby Lord
Tall, solid, six foot, 189 pound Bobby Lord, is not a newcomer to the world of country music. Bobby has made his presence felt by his hard work, and good performances.
Bobby attended the University of Tampa. and through the efforts of his good friend, Boudleaux Bryant, he was signed to an exclusive recording contract with Columbia records. After several years as a Columbia artist, Bobby moved to the Hickory label where he has enjoyed much success.
Bobby enjoys his own syndicated TV show, loves to go fishing, and makes his home in Nashville, Tennessee with his lovely wife, Moselle and his son Bobby.