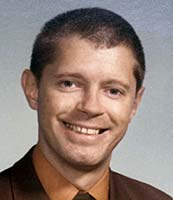 Bob Stone
Bob was a great radio announcer before going into TV. Stoney worked at WALT in the early 1960s before joining WTVT as a reporter and sports caster.
Bob was born missing a foot, did not stop him from participating in sports. He was a high school athlete, and would show all of us up at celebrity basketball games.
Bob always had a ready smile & loved practical jokes.
Stoney sadly passed away from cancer in the early 90s. He is missed by all of us who covered the Bucs in the early days.