Bob O'Brien
Bob "The Bopper" O'Brien has taken a very circuitous route in the radio business. He's now at KOLA after having played oldies in numerous great cities like Boston, Washington D.C., Orlando, Tampa-St Petersburg at the legendary U92 , New York, New Jersey and Hartford. Bob's been in the radio business for over 20 years!

Not only does Bob play the oldies on the radio, he is also an avid collector of rare Doo-Wop and Rythm & Blues 45's and 78's from the 50's and 60's. His info on the collecting hobby has been documented in numerous collector's price and label guides. In fact, he'd welcome your questions regarding the value of your records via email at bobo45rpm@verizon.net. In fact, Bob also purchases record collections! If you've got the right kind of stuff...he may be interested. You can also challenge him with a "Stump the DJ" session and let's just say... Bob is rarely stumped.

Bob is a Capricorn born on January 5th. His interests besides collecting old records include baseball, football and classic TV shows. Bob is something of a health nut. He's a vegetarian and jogs at least 20 miles a week. In fact, you may see him jogging around Redlands where he resides. You might also catch him at your local movie theatre quite often. He is quite a movie buff.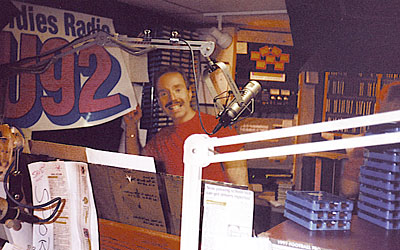 Another little known fact is the he is also a singer! From 1981-1983, Bob toured as First Tenor for The Duprees. The Duprees had several hits in the early sixties like "You Belong to Me", "Have You Heard", "My Own True Love" and "Why Don't You Believe Me" .

One of the best all time jocks ever to work Tampa Bay, a big hit at U92 in the 90s.
10/2004 to present - KDES-FM 104.7, Palm Springs... on-air personality and music director.
Update March 18th 2010
"Besides doing full-time middays at KDES-FM in Palm Springs, California, I'm now also voicetracking a DOO WOP SHOW for a station in Denver who will begin streaming audio any day now. Their site is
www.cruisinoldies950.com "
Web Site: www.bobobrien.tv
Update June 11h 2012
I'm now PD and morning drive at KDES –FM, which has a new place on the FM dial, 98.5 FM (since 2010). I have also completed my first & second book. My publisher is McFarland Publishing. It's available for sale at the publisher's website, and see the Amazon.com link below.
http://www.amazon.com/Single-Season-Sitcoms-1948-1979-Complete/dp/0786468122/ref=sr_1_1?ie=UTF8&qid=1339377130&sr=8-1