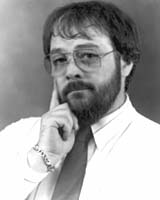 Bob Lassiter
Bob redefined talk radio when he came to town in the mid 80's at WPLP. Lassiter ruled the night, they spoke of him every where. His style was bombastic to some, but he made every one think and re examine their position on life.
Lassiter joined WFLA in 1985 and teamed up with Dick Norman, Tedd Webb, Lionel, Liz Richards and others to bring talk to a new level. The first "Battle of The Talk Show Hosts" was a sellout thanks to Bob Lassiter. People wanted to meet this man in person.
Lassiter came to Tampa Bay from Miami, where he had worked with talk show legend Neil Rogers. Lassiter's style was his own.
Bob's success carried him to Chicago where he worked at WLS, the 50,000 watt mid west monster. He did TV appearances on national talk shows, celebrated by everyone in the business.
When WSUN went talk, it seemed like a natural to bring Lassiter "back home". He worked the morning drive shift, which he hated. Getting up at 4 AM is not Bob's cup of tea.
After WSUN dropped its talk format, Lassiter came back to WFLA. He reigned supreme and was doing the things he did best with the audience, they loved him. A contract squabble resulted in his resigning and retiring from broadcasting. It is a shame, the business could use a jolt of Lassiter.
Bob says "I am still alive, still full of piss and vinegar and glad to be out of the business - 29 years, three months and two days was enough! It was a good ride and I have no regrets."
The only regrets are ours, that we don't have Lassiter to listen to anymore.
Update: October 17, 2006

Bob Lassiter, battling diabetes for some years, has passed away at age 61. He will be missed by many, some who only knew him as The Mad Dog, and to a few of us who knew him as a gentle, sensitive and frail man.
Like him or hate him, Bob Lassiter made us think. We will always remember you Bob, and those phenomenal monologs that no one has ever come close to matching.