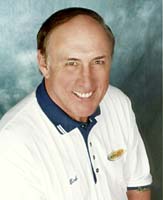 Bob DeCarlo
DeCarlo did the Bob & Judd show 1982-1996. He was program Director of W-101 for 9 years. Since then, Dallas, TX as Morning Man for Oldies KLUV 96-99 and Operations Manager for Waitt Radio Group in Panama City, FL 2000-2001.
Now residing in Houston, TX; living large off the wife.
One hell of a good bowler and one of the best morning-men ever!
August 2003 Update: Bob says "My voice is still around. For the time being I'm reading a short report for the Radio Business Report's afternoon edition of Radio News. And perhaps a more ambitious product will be following with my old friend, the editor, Jim Carnegie."