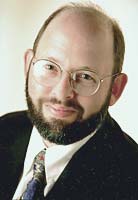 Bob Andelman
Bob was the radio beat writer for the Tampa Tribune in the mid 80s. He did a better job with that column than anyone before or after.
A talented writer, Bob decided to try a book, and came up with "Stadium For Rent", an incredible tale of the battle St. Petersburg faced in acquiring Major League Baseball. Bob did not miss a lick, he detailed the politics of it all, the inside battles, the ones who didn't want this to happen, and how they went about making it a reality.
What's he doing now? "I'm still in St. Pete, still stirring the pot!
http://rays.tbo.com/rays/MGAP5YWFY5D.html
http://www.cnn.com/2002/TECH/internet/09/02/baseball.fansites.ap
http://www.emailtherays.com
Mostly I work on books these days (http://www.andelman.com), which is why many old friends are surprised I'm still around. The local freelance market dried up, although I do occasionally show up in the Maddux Report.
"My daughter just turned 6, so I'm busy taking her places after school. I'll also be coaching her soccer team." Bob is smelling the roses, enjoying all that life has to offer, and it starts with his daughter.