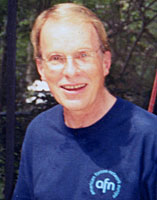 Bill Swisher
Bill Swisher worked weekends at WDAE—as Bob Gordon—from 1968 to 1969, then at WFLA from 1972 to 1974, doing evenings and later afternoon drive. He used his own name at first and then, in an on-air switch, became Bill Fisher on the advice of consultant and legendary radio guy Jack Thayer.
"Several of us there agreed it'd be terribly clever to spell it Phisher just for the novelty value," he says. "So I called myself 'Phisher With a P-H' until one night a listener from Seffner phoned to ask, 'Uhhh, does that mean you got a PhD?'"
Swisher/Fisher returned to WFLA as music director and, briefly, afternoon drive jock from 1980 to 1982. Other stops in his checkered radio career include WRUF, Gainesville, Fla.; KIFH, Fort Hood, Texas; and two stints at the American Forces Network Europe in Frankfurt, Germany.
While in Germany he worked with two guys who went on to fame, but not necessarily fortune, in the Tampa Bay area. Hooters marketing potentate Bob Passwaters was then an AFN sportscaster known as Bob James. And Swisher shared an office for a while in Frankfurt with Roger Schulman, later of Tampa Bay's Q-105 and WWBA. Swisher claims he's the first person to start calling him Roger P. Schulman on the air. "Unfortunately, that hasn't been enough to get either of us into the Radio Hall of Fame."
Swisher drifted from radio into hospital public relations in the mid-1980s became a civilian spokesman for Army hospitals, including 13 years as media relations officer for Walter Reed Army Medical Center in Washington, D.C. He retired in 2007 and returned to Clearwater, where he does volunteer work for various community organizations and listens to Tedd Webb tease Sharon Taylor regularly on 970WFLA.
He still remembers his first brush with Webb, around 1973. "I was driving home one night listening to Tedd, probably on the old FM-101. He went into a Michael Jackson record by saying, 'Did you ever wonder what Isaac Hayes would sound like with a vasectomy?' and Jackson's pre-puberty voice came right in singing 'Ben,' or some other hit. I thought that was a great intro.
"About a month later I was filling in on the overnight shift at FLA, and around 3 a.m. on a Sunday when nobody could possibly be listening, a Donny Osmond record showed up next in the rotation. So I cleverly said, 'Did you ever wonder what Tom Jones would sound like with a vasectomy?' and in came Donny's voice.
"It was about a month after THAT that I met Tedd for the first time at a party at John Lander's place. John introduced us, and without the slightest pause Tedd said, 'Hi, good to meet you. So you liked that Isaac Hayes line, huh?'
"That taught me an extremely valuable lesson," Swisher says. Always steal material from people in other markets—never in your own backyard."