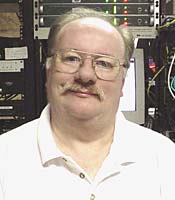 Bill Elliott
"I have had a love for broadcasting ever since I can remember. When I was a kid in Northern Ohio, I was able to pick up the powerhouse stations (WLS, WCFL, WOWO, CKLW, KYW/WKYC and more). I was always always fascinated by the talent and those very stations were like magnets drawing me to the business. In 1969, I got my radio break at an FM station on Starkey Road in Seminole, WQXM, Stereo 98. I was still in high school at the time and was asked to do two air shifts on the weekends. I spent four years on the air fulltime at WQXM."
"In 1972, I obtained my FCC First Class license and became Chief Engineer of WQXM. I was finding my radio interests growing more "behind the scenes" with my engineering work than being on the air as a DJ. I left Tampa Bay briefly in 1974 to build my first radio station from the ground up in Louisville, Kentucky. When I came back to Tampa, I had the pleasure of being Assistant Chief Engineer at WLCY AM/FM. While there, "Y-95" was born. I got the privilege of being the person to unplug "Herman" the automation from hell! Anyone that worked at WLCY back then knows what I am talking about! I then went back to WQXM and was instrumental in convincing the owners to take it rock & roll, hence "98 Rock" came into being along with the 98 Rock chicken, fire truck, paddy wagon, the famous blimp that would never fly, Jenny Cheeks and a cast of thousands."
"I am so grateful to have been a participant in the development stages of Tampa Bay FM broadcasting in the early to mid seventies. It was a blast!"
"While in the Tampa Bay area, I worked with most of the stations in Pinellas County at one time or another and had the honor of working with a lot of the pioneer air personalities in the market. These years of my beginning days of broadcasting were the absolute best time of my life."
"I have to personally thank folks such as Tedd Webb who, at the time I was at 98, worked mornings at WFSO which was located right behind the 98 studios. Tedd always had me laughing every morning when he would stop by before signing on "The Big 57". I would also like to acknowledge the leadership of Charlie Champion. Charlie taught me a lot about the broadcasting profession and how to survive. He was a true friend and mentor. Unfortunately, Charlie passed away several years ago while managing a station in Lancaster, California."
"I also had a hand in helping Bud Paxson develop HSN. Bud and I started the cable TV feed in Clearwater in the early eighties. I made the decision to stick with radio when Bud sold the AM/FM he owned to pursue HSN. I was told by Bud the day I left what a mistake I was making by leaving HSN. Well, hindsight does teach you a valuable lesson from time to time!"
"I am now living in North Central Florida and am Corporate Chief Engineer for a small broadcast company as well as being Program Director for Gainesville's Smooth Jazz station."
"I have always said that I am blessed to be able to pursue my hobby as a career because you can get paid for it!"
"I truly enjoyed my years working in Tampa Bay. As I look over the list of people Tedd has assembled, I get a little overwhelmed knowing that I have worked with a ton of wonderful folks over the years. There are a lot of great people on that roster!"
E-mail: jazzman1009@yahoo.com