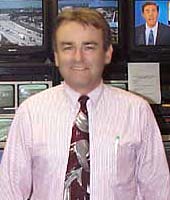 Bill Burnett
Started in Lakeland in the early 1970. WQPD, WVFM & WGTO. Worked at WDAE, WSUN, WFLA & WTOG-TV. Was at WDAE from 1979-1982; WSUN 1985-1987 & 1989-1990; WFLA 1992-1995; WTOG-TV 1995-1996.
He is currently the News Bureau Chief for Westwood One / Metro Networks in Miami and a Deputy Sheriff with the Broward County (FL) Sheriff's Office.
Many years ago an old broadcasting veteran told him to pick up a second career before he got into the radio/TV business and he's glad he did.
Email Bill at: kt4sb@juno.com