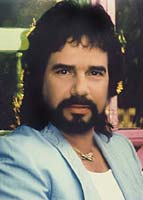 Bertie Higgins
Elbert Higgins was a drummer with the Romans in the early 1960s. They would play at the WLCY Super Star Spectaculars. One night while backing Tommy Roe, he was so impressed with the Romans, he asked them to tour with him, and change their name to the Roemans. They did, the rest is history. Bertie quit playing drums, took up the guitar and songwriting. He was hanging out in Atlanta working with Lowery music when his big chance came in 1983. He penned a song about his beloved Florida, while his then girlfriend was leaving him. The song Key Largo sold over 1 million copies and made him a solo star.
Bertie has had his ups and downs, including a brief stint behind bars for a DUI incident, but his life is now straightened out and he and his Band of Pirates are once again touring and making music. Mark and Amy Haliski, Rick Hinders, Ron Russell, "Paradise Ralphie", Paul Buzine, and Cathy McAbee comprise Bertie's band.
Bertie is one of the nicest people in show business, and we are proud to recognize him as one of our own in Tampa Bay.
Find out more about Bertie's tour dates at: www.bertiehiggins.com