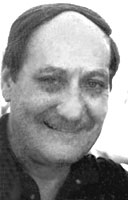 Bernie McGovern
Bernie McGovern has spent a lifetime in radio, television and print locally and nationally.

He sold his first piece at 16 to "a little 5000 watt magazine in Fresno" and decided there and then that the exercise certainly beat working for a living. Radio and television came easy once the late Roy Nilson taught the Brooklyn-native how to speak Standard American. Among other things, he spent 16 years as a semi-regular on the venerable Championship Wrestling from Florida and has written, produced or simply talked his way through several network and syndicated specials.

Today he does specialty PR and his seventh book, Florida Almanac 2004, is now available at "better bookstores near you."

Bernie was quite a Fencer (sword fighting). To hear fencing legend Jack Espinosa spin the tale, Bernie was one of the best these parts has ever seen although McGovern notes he gets better and better with each retelling.
You can contact Bernie at: BMcGo10483@aol.com