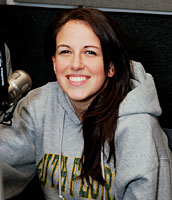 Bailey
Bailey is a relatively new addition to the FLZ family. She is a Tampa native and grew up listening to FLZ and has wanted to be a part of the station since she was a little girl. Radio is her passion and she wishes to pursue it to the fullest extent.
Aside from radio, she is a self-proclaimed movie/music buff. Led Zeppelin, The Stills, Elton John, Boston, Blink 182, Sublime, Green Day, Aerosmith, Queen, Dogma, Baseketball, Super Troopers, Moulin Rouge, Reservior Dogs, Breakfast Club and Wedding Singer are just a few off of the list of movies/bands she could not live without.
She loves hockey, particularly the Tampa Bay Lightning, and likes long walks on the beach and screaming at hockey games... if any of the Lightning boys happen to be reading this. She hopes to stay with FLZ for as long as she possibly can, and is proud to be able to work alongside some of the most talented people in the world.