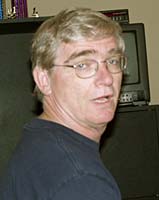 Art Williams
Art MacCammon aka Art Williams, started at WFSO "The Big 57" in 1970 doing afternoon drive, and later on did mornings with Tedd Webb "Williams & Webb" on WFSO.
He moved on to be one of the first at Home Shopping Network, and then opened his own magazine WebBound, which is published quarterly nationwide.
Art now makes his home in Knoxville, Tennessee.