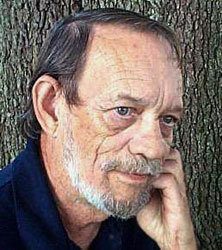 Arjay Morgan
Arjay Morgan blew into Tampa from Northeastern Pennsylvania in 1980 when he took the job of Night State Editor for the Tampa Tribune.

About a year later the siren call of a new, News, Sports and Information station, with the apt callsign of WNSI, led Morgan back into what was the family business in Pennsylvania -- radio. Harte-Hanks, a media giant in the 80s had assembled an amazing crew for its new venture. Tedd Webb and John Eastman were just two members of what proved to be an extraordinarily talented cast. Morgan was the morning news editor, sometimes morning news anchor and often the outside "street" reporter.

After 18 months Harte-Hanks pulled the plug on the operation and the staff scattered to the four winds. Morgan hung out his shingle as a freelance writer, taking advantage of the cool half dozen local 'City' magazines that sprung up. However, the talk banner had shifted to another Pinellas operation, WTKN, and Morgan became The Frugal Techie on that station.

Eventually that gig died and Morgan continued to freelance along with his duties as Editor of The Data Bus, the state's first and only computer newspaper.

The clock winds to 1998 when a fit of altruism led Morgan to FEMA, the Federal Emergency Management Agency where he became a Public Information Officer, where he was the government's spokesman for just about every hurricane and natural disaster that hit the southeast.

In 2002 a spot of cancer on his vocal cord turned the Morgan voice into a harsh rasp and the broadcasting and public information career came to an end. He moved to Zephyrhills and contemplated the next move.

In 2004, in yet another fit of madness, he ran for a Zephyrhills City Council seat, challenging the 12-year incumbent. He lost that election by one vote -- his wife's. She had messed up on the new touch-screen voting machine and failed to vote for him.

Which brings us to Where They Are Now. For Morgan it's a quiet corner of Zephyrhills where he grows bamboo, turns out welded steel sculpture and, as usual, contemplates his next move.