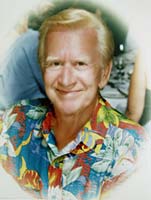 Arch Deal
18 years as major on air anchor and assistant news director for WFLA-TV. 2 years as news anchor and news director for WLCY-TV... Miller Lite All Star for 10 years, running the Miller Sky Diving Team... and at the same time, flying and reporting traffic for Q105 for ten years.
He now operates the Voice of Business, performing custom narrations for major national clients and also teaching Mass Communications at Hillsborough Com-munity College, Ybor Campus.
Arch's kids include: Karen, married to Marty Balin of the Jefferson Airplane and Starship; Diane, Shari and Michelle of Tampa; and son Doug. Count 'em, he has six grandchildren and (would you believe), four great grandkids. (and only three wives). Arch had the pleasure of working with the great one, Tedd Webb when Arch was news director of WLCY-TV (now WTSP-TV).
Arch Deal appeared on To Tell The Truth, 2/27/73. This photo is a close-up of him standing with the two impostors.
On To Tell The Truth, he and two impostors tried to stump the celebrity panel about which was the real Arch Deal, who jumped forty times for his 40th birthday... which was October 5, 1971.
UPDATE: March 14, 2020
It is with a very heart that we report the passing of former News Anchor on TV and bay are airborne traffic reporter Arch Deal. I spoke to his wife Ruby and his son Doug, he died exactly the way his daughter Karen died several years, by suffocating on a piece of meat.
Arch started out at least 50 years ago at WTVT anchoring the 6 oclock new, he left to join WFLA TV doing the same and finished his TV career at WSPT Ch 10 in Tampa. After a briaialliant TV career Arch joined Q105 as their eye in the sky reporter with Nancy Alexander.
Arch has penned a few books including on on his famous free fall where his parachute refused to open on a 3000 jump. He survived that failed jump to successfully jump 50 times on his 50th birthday.
He will be sorely missed by several karaoke stops he and his wife Ruby would make weekly.
An avid dancer, would be found on the dance halls as well as some acting in plays.