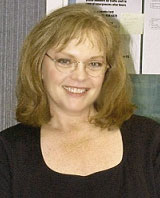 Ann Kelly
Life started out in Garfield Heights, Ohio, a suburb of Cleveland... One of the proud graduates of Bowling Green State University, Bowling Green Ohio, who found her niche in radio via WFAL, the campus radio station, which is where Read and I met. This August 15th, I'll celebrate my 15th anniversary with Magic 94.9... I came to the station as one half of the morning team of Shepherd and Shepherd (along with my then husband Read, who's now remarried and working for WGY in Albany, New York... and with whom I'm happy to say I'm still very close friends with him and wife Lorie), and hosted the show for 12½ years. I'm now Ann Kelly, doing afternoons from 2-7 pm. I found my way to Florida after starting the radio gig with FM 104/WIOT Toledo, where yes, I was Ann Kelly even then, doing middays and handling promotions. I went to Y94-FM in balmy Syracuse, New York doing middays, before I came down to Florida and became a member of the Cox Radio family. Along the way, I've had the pleasure of being allowed to help numerous charities, including the Tampa Aids Network, helping to auctioneer and host Art for Life and Sticks of Fire; I'm a former board member of the Hospice of the Florida Suncoast, and I'm active with the March of Dimes, also hosting and autioneering for the Gourmet Chefs Auction and the American Cancer Society, which among other events have hosted the "Making Strides" for many years. I'm also a member of the Board of Directors of the Arthritis Foundation, which has a deeply personal meaning for me.
I was the 1991 Radio Anchor of the Year, courtesy of American Women in Radio and Television in Tampa Bay.
Not long after I came to Florida, I was diagnosed with Systemic Lupus Erythematosis, and Fibromyalgia, diseases which are very difficult to diagnose and are both relatable to arthritis. But like so many other things, you just keep on keeping on and enjoying what gifts I have been given; a career that I deeply love, a great family- I'm the oldest girl in a family of four girls and one boy; I have six incredible nephews in Ohio and Washington, DC... and thanks to my nephew Shaun in Cleveland who became engaged this Christmas, he's about to make me a (gasp) great aunt since his fiancee has a lovely little girl already. I'm too young! I love antiques, especially Victorian, and shabby chic style... and, on top of all that... yes, I am single.