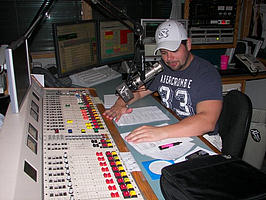 Andy Kovacs
Started at 101-WUSA -- I begin at 101 as a phone opp... Where I began very interested in production and engineering... Eventually I landed a part time engineering gig for a while... later on moved into the land of production creative... and spots...
Currently at 93-3 FLZ -- On normal weekends, I help mix on Club 93-3 Interactive Friday evenings with Kooz, then do whatever air shifts are thrown my way. I've been in Tampa radio for many years and got started here at 93-3 FLZ as part of the MJ & BJ syndication team… with weekend air shifts as a perk J.
When I'm not talking or mixing on the radio, I'm producing imaging for radio (Clear Channel) stations. If ya wanna check it out go to www.ak.lakesoft.com. My long term goal is to program my own station.
UPDATE: 8/15/2012
WXXL-FM 2008-2010
I did 11p-2a on week-days and Mixed/Hosted Mix Shows on the week-end.
TheXstream.FM 2010-Current
Launched a Commercial Free Hit Music Station on the web.
Andy On Remote Location

Having Fun!!!